VISION AND MISSION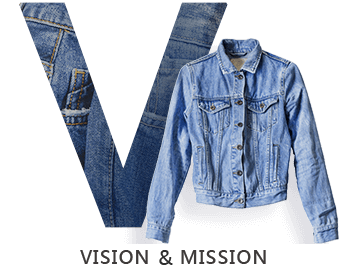 Solid and healthy growth and revolutionary perspectives are keys to sustainability. Based on ever-innovating approaches, Roo Hsing runs the business to gradually expand its scale. While taking in outstanding professionals, we also keep making large firm steps forward by adopting new technologies and equipment with an aim for creating more possibilities for the future.
At the time we are already the world's largest jeans manufacturer, our original aspirations remain unchanged. In garment industry, especially in the field of jeans manufacturing, we will persist with our enthusiasm and passion. We hope to grow with innovation in the fashion industry chain and become a respectful trend-leading company.
Vision

Vision

Backed by a group of professional and technical associates, Roo Hsing has laid sound groundwork for garment manufacturing through accumulation of experience over the years. Along with highly integration of informatization and technification, it is anticipated that by fast responding to the ever-changing market requirement Roo Hsing will become the best integrated service provider in the fashion industry in the future.
Values
Values

Based on people-oriented corporate culture, Roo Hsing will adjust its growth pace to meet global demand in the garment industry and make the world work better, and all these challenges are what we always maintain vigilance for. Roo Hsing's core values include Care, Communication and Creativity, a new interpretation of 3C.
mission

mission

Thanks to the rules of thumb and strong relationships with business partners established over the years, customers will be assured of one-stop shopping through cross-platform operation and integration of vertical supply chain.
RECORD

RECORD